To get to Petra from Wadi Musa (eng. Moses Valley) we passed through rock labyrinth. It is interesting that Petra inhabitants developed water system, part of this system is visible on left side of picture (it looks like shelf).
Photo: Siq way to Petra
First building we have seen in Petra. City was founded around two thousands years ago by Nabataens. Treasury is the most remarkable Petra building.
Photo:Petra - Treasury
Next antique building , to be honest I do not know what is name.
Photo: Michal and old building
Monastery – astonishing building. Huge construction carved in rock. It is situated in mountains. What a view!
Photo: Monastery - Petra
Wadi Musa above , Petra below
Now you know who has destroyed Petra. Such column you can see one hour walk from Petra.
Photo: Ancient column and me
Jebel Haroun – place where Aaron , Moses brother was cremated.
Photo: Jebel Haroun
After that we lost our way and we had to traverse valley
Photo: Obvious path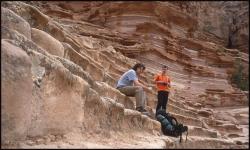 After 1.5 days of march we arrived to amphitheatre
Photo: Amphitheatre
We crossed a pass and we lost our way second time. In our guide book we found a description "descent route is obvious".
It is example of ultra narrow canyon. The biggest problem for us in canyon was to find where we are. We had no good map and our GPS could not receive signal.
Sunset that we have seen from our tent.
After visit in mountains around Petra we moved to Wadi Rum - desert with fantastic rock formation.
We have seen only one tree in Wadi Rum
Simply nice landscape
Only living/moving form of life in Wadi that we hve had chance to see.
Looking for an accommodation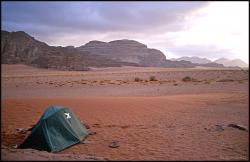 When we chose place for our tent we could not complain of view.
Photo: Desert accommodation