Idea to organize trip to South America we had since I've started work in Lufthansa. At the beginning we thought about Ecuador or Venezuela but instable political situation and threat of tropical diseases cause we chose country less exotic but definitely more safe for travelers.
Glimpse on geographical atlas gives us idea what we can expect. Chile is 4 thousand kilometers long and 350 wide. There are several climate zones (from place where human never record of rain to places where raining everyday), huge diversity of animal and plant life. For sure everyone finds something interesting.

Even first part of journey seems interesting. We have never travel so long with Alicja to starting point. 4h from Gdansk to Warsaw after 2h to Frankfurt, 17h to Santiago de Chile…
Droga do San Pedro

3h from Santiago to Antofogasta and finally 5h by bus to San Pedro de Atacama.

San Pedro

When you sum all time it is 31h enroute (I've skipped time of waiting). Alicja was brave even during 17h flight to Santiago. Starting point for us was Altiplano – high plateau on Bolivia – Chile border.
Wulkan na Altiplano

San Pedro is not very interesting city and that is why we climbed to neighbored hills. We could see two majestic volcanos.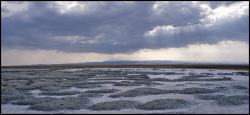 Salar na Atacamie

Evening we organized trip to nearest salar (lake with salty water).
Photo: Salar on Atacama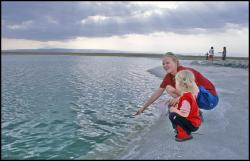 Salar temperaura wody 20C

Clear and extremaly salty water. Salt crystallize on lakes edge.
Photo: Salar
Sól krzstalizująca się na dnie salara

Salt crystallizes even on lake bottom.
Photo: Salty lake
Flamingi w locie

Lazy flamingos flounder in salty water, but when they saw us they took off.
Photo: Flamingos in the air