We visited night market in first day in Johor Bharu, where we could taste all Malaysian (but not only) dishes.
Photo: Night market in Johor Bharu and man who make murtabaks.
After night spent in train Singapore-Kota Bharu we arrived in the morning to Kota. First minutes in Kota and we knew it that we are not in Europe. Because north part of Malaysia is populated mainly by Muslim , women wearing >!!!!!!!!!!!!!!!!!!> is common view.
Photo: Kota Bharu
Finally we arrived to our first destination - Perhentian Islands.
Photo: View from Perhetian Islands
...and we knew it that we arrived to paradise.
Photo: Perhentian Islands
Laying on beach is not a way how we wanted to spend vacation and next day we started diving course.
Photo: Perhentian Island and we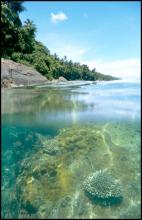 What we saw underwater was remarkable. Different species of fishes and corals.. water was so clear I can say it was shock for us.
Photo: Reef near Perhentian Islands
It is example what you can see near beach (pictures was taken using Michal P. underwater housing)
Photo: Reef near Perhentian Islands
Every Malay (or at least women) paid attention to our blond child (to be honest I've never seen blond Asian)
Photo: Alicja and Malaysian family
After couple of days on island we moved to the biggest Malaysian national park – Taman Negara. During trip we met many "original" Malay
Photo: Women in Kota Bharu - T.Negara train
Typical Malaysian shop. Every item in Asia must be packed in plastic bag, definitely they love plastic bags (even Pepsi is sold in plastic bags)
Photo: Railway station shop
We have chosen water way to get to park.
Photo: N.P Taman Negara
Rivers in many situation is only option to reach remote places in short time. It is popular kind of transportation among tourist and jungle people.
Photo: N.P Taman Negara
First meters in jungle and we learnt that jungle trekking is not easy walk.
N.P. Taman Negara one of the biggest national park in Malaysian Peninsula. It is refugee for 300 species of birds, innumerable species of insects and plants. It is hard to believe that so many species live in such jungle when you walk through tropical forest you are happy when you see snake or something different than leeches. Dense vegetation is an excellent hide for animals.
Photo: N.P. Taman Negara
Green , brown and black are only colors visible in jungle. But leaf shape diversity is amazing. Target for plants is only one - collect sun rays in most effective way..
Photo: N.P.Taman Negara
One of jungle inhabitant that we were lucky to see.
Photo: N.P. Taman Negara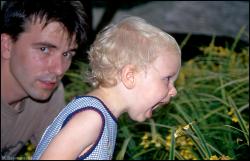 After two weeks we returned to Singapore, several hours waiting for our flight in Singapore Botanical Garden...and long flight home..but after few months we were back in Singapore but is next story.

{moscomment}